IO-Link Signalleuchte
NE-IL
Die IO-Link Signalleuchte lässt sich einfach mit einem IO-Link Master integrieren und verfügt über mehrfarbige LEDs, einem Berührungssensor und einem robusten Gehäuse.
特長
Kapazitiver Berührungssensor ermöglicht Statusbestätigungen in Echtzeit
Ausgestattet mit einem digitalen und analogen Eingang, um sowohl für Geräte mit und ohne IO-Link kompatibel zu sein. Die NE-IL fungiert als I/O Hub, welcher Daten von Sensoren an den IO-Link Master sendet
Verfügt über einen M12 Steckverbinder: Für eine schnelle und einfache Installation
Die an einen IO-Link-Master angeschlossenen Geräte zur Statusanzeige können gemeinsam gesteuert werden
Durch die Echtzeitbenachrichtigung über Geräteanomalien kann der Bediener sofort Wartungsarbeiten durchführen, wodurch Engpässe und Ausfallzeiten verringert werden
Die 7 Farben ermöglichen es, unterschiedliche Gerätezustände anzuzeigen
Hohe Schutzklasse für den Betrieb in rauen Umgebungen
Die mattierte Linse sorgt für ein gleichmäßig ausgestrahltes Licht und damit für eine eindeutige Statusanzeige
Klicken Sie hier, um eine Anleitung zur IO-Link-Verbindung mit der "NX Series IO-Link Master Unit" der OMRON Corporation zu erhalten.
(Bei Fragen zu diesem Dokument wenden Sie sich bitte an die OMRON Corporation.)
Modell Spezifikationen
Modell
NE-ILNN-M






NE-ILNB-M

Mit Signaltongeber




NE-ILTN-M

Mit Berührungssensor



NE-ILTB-M

Mit Signaltongeber
und Berührungssensor
NE-ILXB-M

Mit Signaltongeber, Berührungssensor,
und digitalen /
analogen Eingang
Durchmesser
φ56mm
Nennspannung
24V DC
Montageort / Montagerichtung
Innen aufrecht
Schutzklasse
IP65 NEMA TYP 4X,13
LED Farbe
Mehrfarbig (Rot, Gelb, Grün, Blau, Weiß, Lila, Cyan)
LED Spezifikationen
Dauerlicht / Blinken
Buzzer Töne
-
Typ. 88 dB
(8 Alarmtöne wählbar)
-
Typ. 88 dB (8 Alarmtöne wählbar)
Konformitätsnormen
●EMV-Richtlinie (EN 61000-6-4, EN 61000-6-2) ●RoHS-Richtlinie (EN 50581)
●UL 508, CSA-C22.2 Nr. 14 ● FCC Teil 15 Unterabschnitt B Klasse A
● KC (KN 61000-6-4, KN 61000-6-2)
Verbindung
M12 Steckverbinder 5-polig A-Code
M12 Steckverbinder 8-polig A-Code
Konfiguration der Modellnummer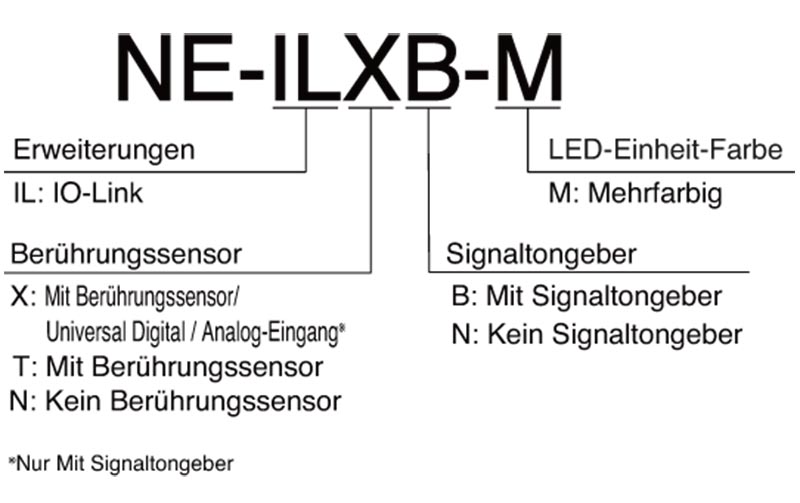 Bedienungsanleitung/Spezifikationen/Außenzeichnung
(*) Der Download -Service der Daten auf dieser Website soll den folgenden "" zugestimmt haben.
Dateidownloads
(*) Der Download -Service der Daten auf dieser Website soll den folgenden "" zugestimmt haben.
TERMS AND CONDITIONS FOR DATA DOWNLOAD
1.Ownership of rights
Copyright and other intellectual property rights in the data downloadable from this site belong to PATLITE Corporation ("PATLITE") or the right holders from whom PATLITE has obtained necessary licenses for the use thereof.
2.Use of data
User of this site, who also is a registered member of PATLITE Web Member, ("User") may use the data downloaded from this site ("Downloaded Data") at no charge and on a non-exclusive basis, only in accordance this Terms and Conditions for Data Download ("Terms").
3.Purpose
The data disclosed on this site ("Disclosed Data") and Downloaded Data may be used only for the following purposes:
Messages, melodies, alarm sounds and other audio data ("Audio Data") or software data ("Software Data") Users of PATLITE products may transfer Audio Data and/or Software Data to PATLITE products and run such data on PATLITE products only.
CAD data of PATLITE (the "CAD Data") or PATLITE product specification data
(the"Products Specification Data")Users of PATLITE products may consult such data as a point of reference in order to repair or renew PATLITE products. The data may also be used by prospective buyers of PATLITE products for evaluation.
4.Prohibited acts
Downloaded Data may not be, among other things, reproduced, modified, altered, decomposed, disclosed, replicated elsewhere, assigned, or loaned in whole or in part.
Audio Data may not be used for any purpose other than the purpose stimulated in the Article 3; Audio Data must not be used with non PATLITE products.
Software Data may not be used for any purpose other than the purpose stimulated in the Article 3; Software Data must not be used with non PATLITE products.
5.Notes on Disclosed Data and Downloaded Ddata
Please acknowledge the followings before using Disclosed Data and/or Downloaded Data,
Not all models released by PATLITE in the past are disclosed as Disclosed Data on the site.
Some products included in Disclosed Date may have been discontinued or may otherwise be no longer available for sale.
Disclosed Date consist of data originally available at the time of the release of the corresponding products.
PATLITE reserves the right to determine the type and content of Disclosed Date and the period of availability.
Software Data is not supported by all computer appliances. Some computer appliance may not import Software Data in part or in whole.
CAD Data do not warrant specification and/or performance of the corresponding products.
PATLITE makes no warranty as to the consistency of the values extracted from the drawings contained in CAD Data with actual products.
The CAD Date is provided as an intermediate file format for exchanging CAD data and is not supported by all applications. Some CAD applications may fail to import data in part or in whole.
In case User plans to export, carry out of Japan, or provide to a non-resident Downloaded Data directly or indirectly, User must comply Foreign Exchange and Foreign Trade Act of Japan, US Export Administration Regulation and any other applicable laws and acts and must take all necessary procedure.
6.Downloading CAD data
PATLITE makes no warranty as to the consistency of the values extracted from the drawings contained in such data with actual products. For specifications and dimensions of a product, please refer to product specifications.
2D data are provided in DXF format (Ver.R12/L12)
3D data are provided in one of the three formats described below:
A. IGES format;
B. STEP format; or
C. PARASOLID format.
7.Downloading Product Specification Data
Safety Precautions for the use of PATLITE products are included in Product Specification Data or described in a separate hard-copy attachment contained in the product box or carton. Products Specification Data available on this site, however, only contains product specification data, and no information printed on such separate attachment is available on this site. Safety Precautions" contained in Product Specification Data are subject to change to reflect changes in legal requirements, but the Safety Precautions contained in the Product Specification Data are those issued in conformance with the legal requirements that prevailed at the time of initial release of the product and may not be the most current. Inquiries regarding Safety precautions" should be directed to PATLITE's customer service desk.
8.Termination or change of downloading service
Services available on this site are subject to withdrawal, and the content and conditions of such services are subject to change without notice. PATLITE further reserves the right to revise the Terms without notice. Revised Terms, if any, will take effect and apply to all use of downloading services immediately upon PATLITE's announcement of such revised Terms on this site.
9.Termination of utilizing agreement
PATLITE may terminate the utilizing agreement available under the Terms with User, in the event PATLITE finds that the User has violated any provision of the Terms when he or she uses the service offered on this site, or has committed any act that constitutes a breach of public order/morals or other laws, or has defamed PATLITE or has committed any act which are likely to cause damage to PATLITE in connection with the use of the services available on this site. In such case, the User shall immediately stop using all of the Downloaded Data. This provision also applies in the case when User loses his or her status as a PATLITE Web member.
10.Limitation of Liability
PATLITE shall not be liable to Users for any direct or indirect damages resulting from the use or loss of use of the services available on this site (including, but not limited to damages caused by damaged data, suspended operation and loss of business information), even in circumstances that the likelihood of damage or third party claims for compensation are known in advance.
---